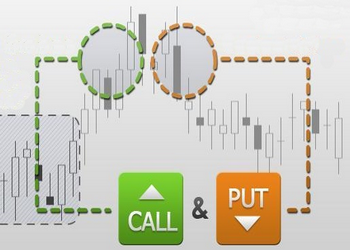 Binary options are the latest tool to make profit online. It becomes even more popular thanks to being a simple, highly profitable, and affordable tool. As more and more people ask: «Binary option — what is it?», – we've decided to write this article. So to say, «options for dummies».
The unique principle of trading binary options has a number of obvious benefits. In the past a trader had to invest a large amount of funds and buy an asset itself, and today it is enough to buy a contract for an asset (an option).
For example, if shares of world leading companies (Apple, Google, Coca–Cola) cost up to several hundreds of US dollars, a contract may be bought for as much as $5.
All you need to make profit in such a modern way is to correctly forecast the price movement of an asset for a given period of time. Just up or down! When the forecast is correct, the trader gets the amount of profit he knows beforehand.
BENEFITS OF BINARY OPTIONS
Trading binary options allows to double deposited funds in as long as 30 seconds. And the trader knows beforehand his potential profit and all possible risks.
Trading binary options does not require any special skills and financial education – your desire and common understanding of the financial market are enough.
Minimum deposit amount and minimum stake allow everyone to make profit using this tool.
Trading binary options is available 24/7. Everything you need is your internet connection.
WIDE VARIETY OF TRADING TOOLS
Assets can be currency pairs, commodities, indices and securities. There are more than 200 kinds of assets from all over the world.
HOW TO TRADE BINARY OPTIONS
Let's suppose you believe the price for gold will rise within half an hour. According to your forecast you buy a gold option for 300 USD. And you know the payout for your trade beforehand – it's 80%. In 30 minutes your forecast turns out to be correct, and you get $240 profit.
Taking into consideration that the prices in the financial markets constantly change, trading binary options allows to open hundreds of successful trades every day. Additionally, you can open short term trades with 30 seconds minimum expiry that promise almost instant profit.
Binary options are the fastest and the most fascinating way to make profit online!